One step closer to the autonomous future.
UI/UX Design
Product Design
Web Design
Branding
Applied is a "typical" Silicon Valley company; they're here to change the world by teaching self-driving cars' AIs to drive in a simulated environment. During my time in Silicon Valley, I had a one of a kind opportunity not only to build the company's brand from scratch but also plan and design their web-based product from the beginning.
Working as a first designer in a software company was an exciting and highly challenging assignment. Working together with the best software engineers in the world taught me a lot about agile software development processes, the importance of early-stage implementation and product testing. Moreover, it prepared me how to work seamlessly with software engineers and how to create "design handovers."
The core product is a web-based simulator, where software engineers can update their autonomous vehicle's drive data and not only simulate driven data but also provides different possibilities to create new variations and scenarios or modify already driven runs. My primary mission was to plan and design these functions to be as smooth and as intuitive as possible.
A web-based application has its limitations and working directly with software engineers provided me with the possibility to get direct feedback and valuable insights on how to design sophisticated, yet doable design solutions. To accelerate product design processes, I created a consistent design system based on React components, open source UI frameworks (primary the Mineral UI) and used a CSS preprocessor (LESS) and both Adobe XD and Sketch to build our unique design system.
I found out that brainstorming together with software engineers was the key to successful product development – they know what they need and I know how to implement that need without making any significant compromises with the product's usability.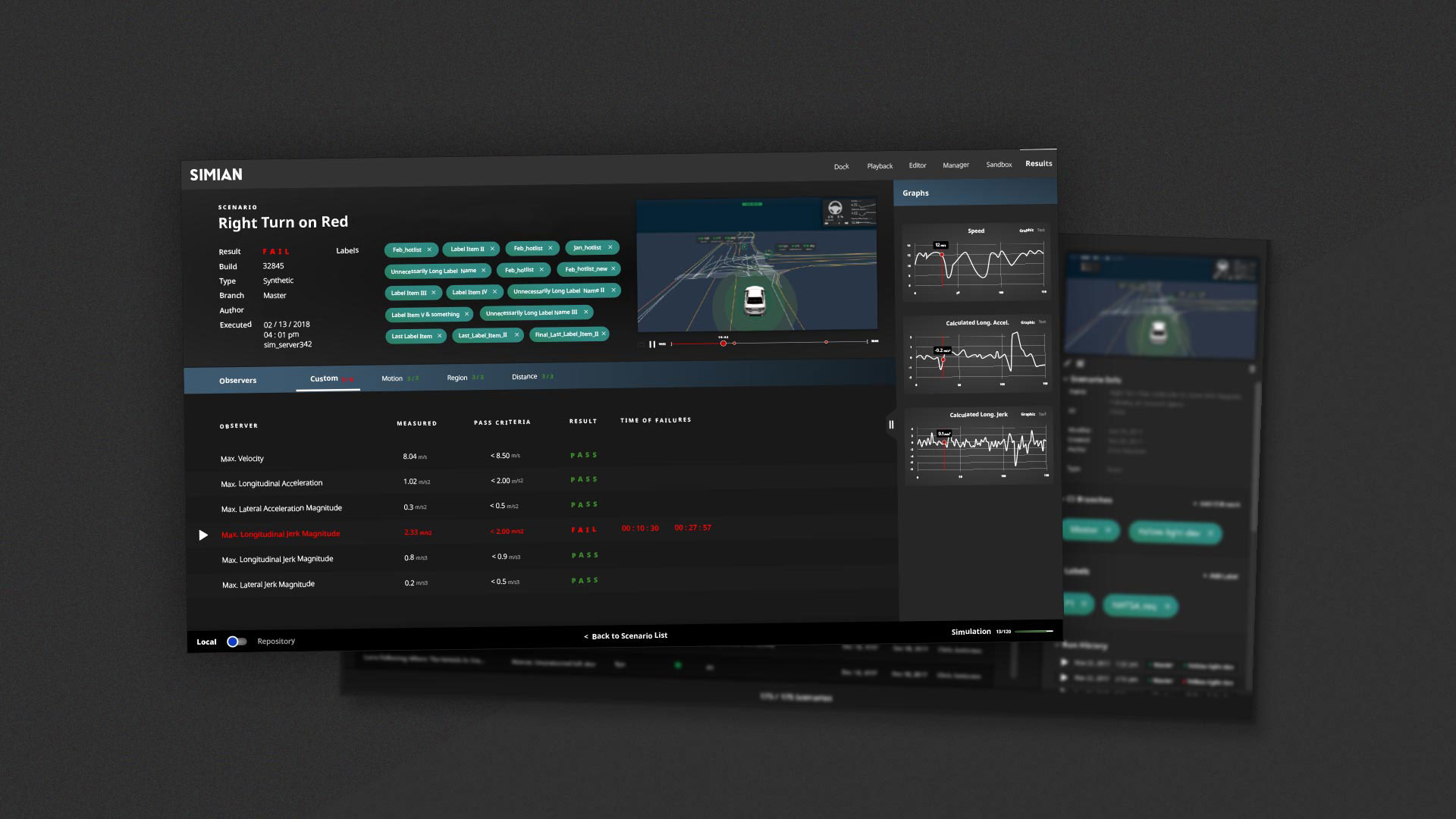 Applied is genuinely a lean startup–I worked directly with software engineers and a product manager without any mid-management. It's incredible how much seamless collaboration can boost product development processes.
Current status of the ego (=self-driving car)
Observers – indicates where's the error
Switch between workspaces
Drive = real data versus Simulation = edited data
Add or search filters, drive files or tags
Drive info – tags, locations, maps, etc.
Render status – how many files are unrendered. Check out the render status by clicking the status bar
Switch between local and repository (cloud) drive files
I had a fantastic opportunity to design a logotype both for the company and the product (simulator). Together with the CEO, we created a retro, yet futuristic logo which portrays the future-oriented approach of the company.